Description
Award winning
Emiliana Adobe Reserva Viognier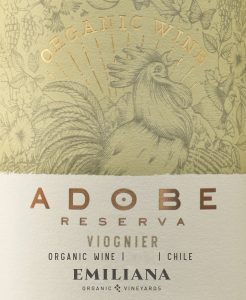 Pale yellow in colour with a nose that presents fruity aromas recalling orange, nectarine and white peach with honeysuckle and jasmine notes. The refreshing palate shows this is a wine full of character, with good concentration and balance.
Emiliana Novas Gran Reserva Bio Bio Riesling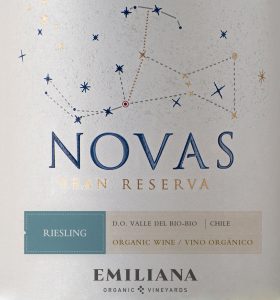 Quietly complex on the nose with fresh lime notes combining with a steely minerality and gentle honeysuckle flora. The palate is mid-weight and off-dry with persistent flavours of lime, there is a natural salinity which gives contrast yet lovely balance. It finishes clean with a lingering flinty character.
Adobe Reserva Cabernet/Syrah/Merlot Rosé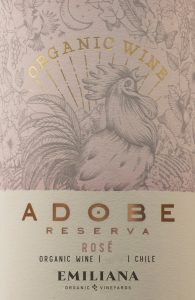 Pale almost Provincial-pink in colour with gentle strawberry and red cherry aromas. The palate is medium in weight with fresh summer fruits and a silky yet refreshing finish. Delicate and easy to drink.
Adobe Reserva Cabernet Sauvignon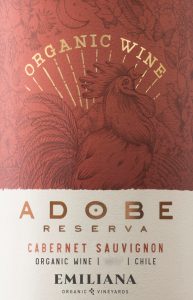 Attractive aromas of black currant and crunchy red fruit accompanied by notes spice. The palate is concentrated and very smooth with great crunchy red fruit character. The tannins are ripe and provide welcome grip and combined delicious acidity, leads to a balanced finish.
Emiliana Novas Gran Reserva Carmeneré/Cabernet Sauvignon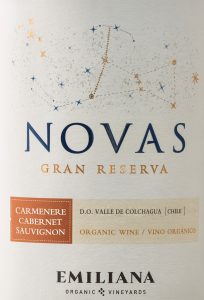 Black cherry red with intense fruity notes of blackcurrant and strawberries that give way to a light touch of black pepper, tobacco leaf and chocolate. The palate presents medium body and very smooth, lush tannins. This wine is very easy to drink and stands out for its great balance and fresh finish.
Adobe Reserva Bio Bio Organic Pinot Noir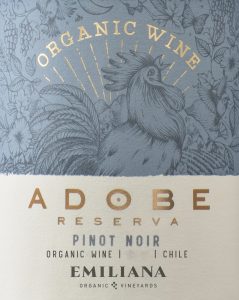 Light ruby red in colour with aromas of fresh strawberries accompanied by subtle notes of spices and a touch of minerality. The medium bodied palate is elegant, delicate and fresh with juicy sour cherry flavours balanced with ripe tannins and a long finish.