Rory our rescue 'Wine Shop Dog'
Rory was adopted in 2014 from one of our local Lancaster Animal rescue Charities – Animal Care – as a misunderstood, very energentic, 8 month old pup.  Rory intrigued our customers, with his antics, gathering quite a following on Facebook.  He was finally allowed on his first visit to the Shop, to meet the customers for our 2nd Birthday celebration week-end – when he made lots of friends.
Nearly six years on, Rory, has settled down, as one of the team (just as well with all those bottles!) -he loves his Sunday visits and various events in the shop & outside events.  And is now 'Operations Manager' for all the local deliveries, during lockdown, even receiving his own emails! He is still a fun loving character, living up to his nickname of 'His Roryness'   And we wouldn't have him other way.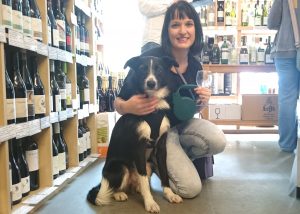 Rory first visit to the shop June 2015