Description
Champagne Gremillet Sélection Brut NV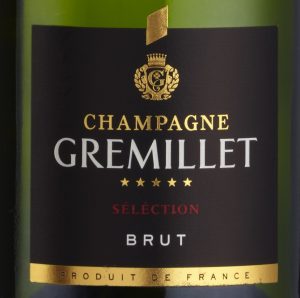 This award winning Champagne, drinks very nicely well chilled, on its own,  but is also recommended with light nibbles, salads and simple fish dishes.  30% Chardonnay 70% Pinot Noir  gives fresh floral aromas, combined with characteristic sweet brioche overtones, balanced by peach skin and baked biscuit flavours and  a crisp citrus finish.
The vineyards, situated in the southern reaches of Troyes,  achieve greater ripeness, which leads to a richer fruit and classic baked biscuit flavours mixed with characteristic toasty yeast overtones. Only the first, lightest pressings are used, as is usual for fine Champagne. Classic slow second fermentation in the bottle,  followed by maturing on the lees,  for at least 18 months before being disgorged and released for sale.   ABV12.5%  Vegetarian
Genetie Mâcon-Charnay 'Les Piliers'  Beaujolais/Maconnais, France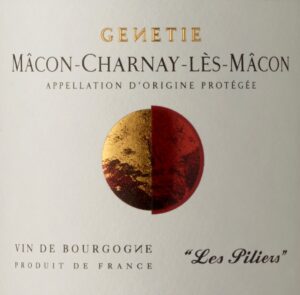 Dry, rich, delicious 100% Chardonnay, lemony aromas, crisp & bright, candied peel, touch of Lemongrass
An extremely versatile wine that can be enjoyed alone or with food – delicious alongside grilled fish
asparagus & mushroom risotto, fish chowder, a traditional roast Chicken or Turkey with all the trimmings, Chicken in cream sauce and a Cheese platter
'Genetie' is a word engraved into the ancient stone pillar of the estate in Saint-Vérand and etched into their wines, which combine the warmth of southern Burgundy, with the elegance and finesse of their individual terroir.  Vegetarian, Vegan 13.5% ABV Cork
Chateau Baron Bellevue 2014 Cotes de Bourg, Bordeaux, France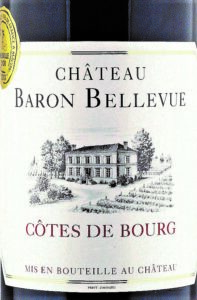 A Classic Bourg with characterful ripe fruit, warm spice and very approachable.  Using Merlot 80% , Cabernet Sauvignon 15% , Cabernet Franc 5%
Mainly Merlot, this wine is typically ripe and spicy with wild bramble flavours, tasty tannins and a lovely gutsy character. Smooth and approachable, this is drinking very well now and should suit most palates. Claret and roast lamb with Rosemary go perfectly.  Also good with farmhouse Cheddar.
Château Baron Bellevue's 21 hectares are planted with the classic Bordeaux varieties – Merlot (80%), Cabernet Sauvignon (15%) and Cabernet Franc (5%) on chalky clay gravel. A third of the vines are over 30 years old, with the oldest planted in 1956. Vines are cultivated with a respect for the environment, without the use of insecticides. Bunches are thoroughly sorted, de-stemmed and gently pressed before a 20 day fermentation during which the juice is tasted daily to achieve the optimal extraction of flavour and colour. The wine is then aged for 18 months in the Château's cellars, where the barrels are racked every three months until they are ready for bottling, which is also carried out at the château.  13% ABV , Cork
Tabali Pedregoso Viognier Gran Reserva, Chile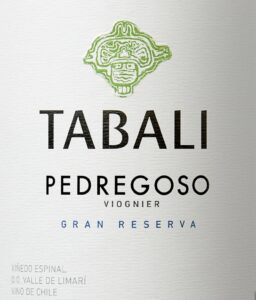 Made with 100% Viognier.  This Viognier presents rich aromas of citrus, orange peel and dried apricot, fresh pears and white peaches, plus hints of candied fruit. Delivers on the palate as well as the nose, with floral, honeyed and citrus flavours combining with chalky minerality so typical of Limari. Bright and expressive, this has a soft rounded texture and great purity.
This beautifully aromatic and delicate wine is a good match to delicate and rich seafood, will equally stand up to aromatic Thai and Pan Asian cuisine. Try seabass in ginger.
Suitable for Vegetarian, Vegan.     ABV 13.5%  Screwcap
Graham's Quinta dos Malvedos 2010 Single Quinta Vintage Port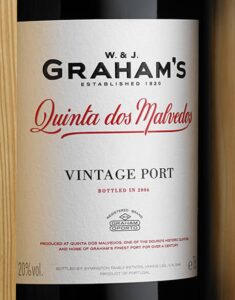 Deep crimson centre with a hint of age showing in the mauve-hued rims. Bright, fresh aromas of ripe red and black fruits are
underscored by the typical Malvedos mint, eucalyptus notes, with subtle hints of dark chocolate in the background. On the palate
the wine is rich and broad, showing peppery spice and concentrated blackberry flavours, laced with layers of mint and bittersweet
chocolate.          A fabulous way to end a lunch or dinner, on it's own or  with Chocolate Dessert or Cheese, especially Blue Cheese. Traditional Grape Varieties: Traditional Douro Valley varieties, principally Touriga Nacional, with smaller components of Tinta Barroca, Tinta Roriz and Tinta Amarela.  Decant before serving, preferably a few hours before.       ABV 20%  Suitable for Vegan and Vegetarians
A single stunning single estate Vintage Port from the jewel in the Graham's crown.  This has been at the heart of Graham's Vintage Ports since 1820.  The extraordinary quality of the wines from the Malvedos vineyard is such that in Vintage declarations these wines provide the main structure of Graham's classic Vintage Ports. In most interim years, the wines from Malvedos merit bottling as a Single Quinta Vintage Port: Graham's Quinta dos Malvedos Vintage Port.
Domaine de Grange Neuve Monbazillac (50cl bottle)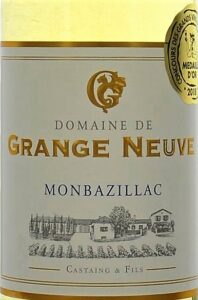 Domaine de Grange Neuve Monbazillac (50cl)  South West France.  Made with 12%  Semillon 80% , Sauvignon Blanc 10% , Muscadelle 10%
Their Vineyards are based in the heart of Perigord, near Bergerac along the valley of the Dordogne river. Here, on the river slopes there is a particular micro-climate which favours the development of the Botrytis – necessary to make this style of sweet wine. Vines average 25 years of age. Grapes are hand harvested at a very late stage of maturity, in three successive 'triage', to ensure that only the most mature grapes are picked. Grapes are harvested in October and November.  After fermentation the wine is matured for 24 months.
A fabulous dessert wine, sweet and luscious with a great backbone of fine acidity for a clean finish. The nose is fresh with classic Botrytis marmalade and ripe nectarine. Flavours on the palate are rich honey, with a finishing twist of bitter Orange.  The French would serve this as an aperitif,  but it is also good with Paté or Blue cheeses such as Roquefort.   Sweet, Utterly luscious – fine, balanced and exceptional value.  Vegetarian, Vegan, Sustainable,     12.5% ABV